Sunrise at the Grand Tetons
Oct 28, 2020
You'll find lots of iconic images of the Tetons online and in stores. Every photographer who visits Jackson Hole heads to Schwabacher Landing to capture the Tetons rising straight up out of the Wyoming prairies. But this one is special to me because it took just a little more effort. Here's what happened.
We arranged a guided photography workshop with Brad Schwarm of Alpenglow Tours (highly recommended!). Unfortunately we awakened that day (I use the term loosely - Brad picked us up at the campsite at 4:00 AM!) to the Worst Photography Weather Ever! A soaking drizzle, low clouds, completely overcast. Not a day to get a sunrise photo of the Tetons! We bundled up and headed out. Terri was a trooper. I'm sure she would have preferred to stay in the cozy bed for a few more hours.
The rain paused around sunrise, long enough to get this picture.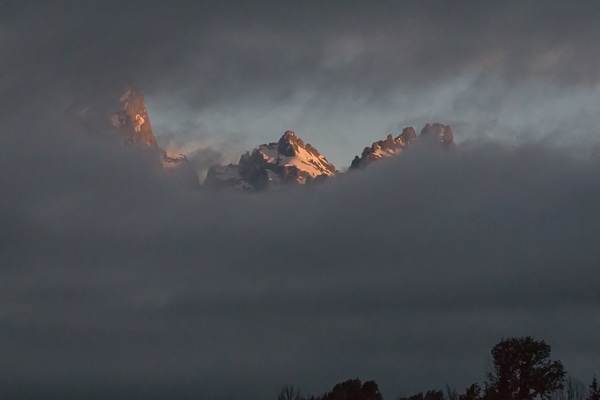 That peek at the sun hitting the Tetons was enough. We resolved to get up early again the next morning and were rewarded with the stunning view captured below! The clouds rising out of the peaks still have the shape of the valleys where they rested for the night. Please visit the store if you would like to hang this stunning photo in your home or place of business!